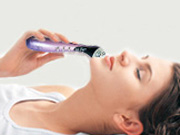 Rejuvenate Your Skin!
Do you suffer from skin trouble like fine wrinkles and pimples every time you look at yourself in a mirror? This facial massager is similar to the expensive ultrasonic machines used in high-end beauty salons. Now you can enjoy this skin care product in your own home!
How does the Galvanic Face Massager Help Your Skin?
A Skin care Product That Really Works! Proven to be an effective natural skin care remedy this product is similar to the expensive ultrasound machines used at high-end beauty salons. Now you can enjoy this beauty skin care product in your own home! In only 10-15 minutes daily, you'll see and experience beautiful changes in your face: your skin will appear more youthful, smooth and healthy. The Ultrasonic Galvanic Ion Face Massager is
clinically proven
to help witht he following skincare problems:
Beauty and Health Benefits of the Ultrasonic Skin Care Therapy
With this revolutionary Anti-Aging Skin Care product, your skin will appear healthier, smoother and more youthful. The ultrasonic wave of this facial massager permeates deeply into skin texture with transformed heat and micro vibration to reach revival effect. Ultrasonic waves are harmless to your facial bone and muscles. They permeate the skin deeply, which accelerates blood circulation and removes old cuticles.
Major benefits of this Skin Care Product are:
Reduce Wrinkles - Enhance Absorption of nourishmentCosmetics supplying nourishment to the skin should penetrate deep into the skin. However, most of the nourishment cannot be absorbed by your skin due to the different skin layers. Fortunately, the anti-aging skin care with galvanic ions helps the nutrients of cosmetics to penetrate your skin.
Prevent Blackheads and Pimples
Blackheads or pimples appear because excess sebum clogs up and blocks pores. When ultrasonic waves penetrate the epidermis, instant strong pressure and vibration is locally generated to remove sebum and waste matter from the pores. Thus, galvanic ion face massagers help preventing the generation of blackheads or pimples.
Reduce Freckles
Melanin pigmentation in your skin can lead to flecks, black spots and dark skin and generally and uneven teint. The ultrasonic waves of the galvanic ion face massagers promote melanin oxidation and make flecks pale. Unlike flecks on the surface, black spots and dark skin are pale cells surrounding melanin on the base layer changed to dark color and seen through on the surface. Ultrasonic vibration and heat action promote the elimination of melanin in pale cells in the deep epidermis to keep skin white and beautiful.
Save Money
Visits to spas and beauty salons can easily amount to hundreds of dollars each month! However, most women ares till willing to pay this price for their beauty. With ultrasonic galvanic ion facial massagers you can save the money for spa visits because you have your own spa kit at home. Imagine how awesome it would be to have all this extra money and still to be able to give your skin the very best treatment with the newest technology - on a daily basis!
What makes Ultrasonic Glavanic Ion Massagers Different From Other Models?
The galvanic spa system stimulates muscles, opens and cleans out pores and delivers essential nutrients and elastin to the skin. It can be used as an anti-aging device and to clear up acne.
Ultrasonic Galvanic Ion massagers are the
ONLY
patented beauty machine in the world that integrate galvanic ion and ultrasonic wave to maximize the result!
Other facial massagers in the market use either ultrasound waves OR galvanic ions, but none of them combines the two technologies for maximum efficiency!