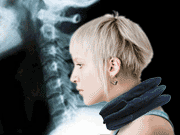 Relieve Stubborn Soreness with the ChiSoft Neck Traction
If you are looking for the best way to stretch stiff and sore muscles in your neck, then the
ChiSoft Neck Traction
can be taken with you anywhere on the go! This device provides instant massage relief to immediately halt any pesky and painful neck pain.
The most common form of neck pain comes from strain and can be relieved with nonsurgical treatment.
The ChiSoft Neck Traction works as a cervical traction to relieve stiff and sore neck muscles with gentle stretching for the joints and muscle tendons. This is a portable and convenient device, and it can be used anywhere you are, whether it is at work, at home, in your car, or even on an airplane! This is a simple and convenient tool that is perfect for the home or office, and now you no longer have to wait for your massage appointment to see immediate relief from stiffness and soreness in the neck.

The simplicity of the design makes it the ideal tool for home or office use. No longer do you have to wait until you get home to seek relief, or lie on the floor to use another product.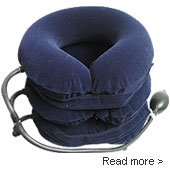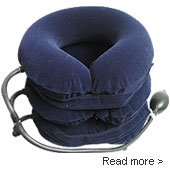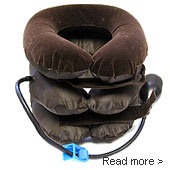 Compare - Neck Traction Units

With the Use of the ChiSoft Neck Traction, You Can Expect:
Relief for a sore neck: This is an advanced device that will work to reduce stiff muscles by gently stretching your neck. All you have to do is place the device around your neck and use the inflatable pump to increase the pressure for a gentle and effective stretch. This device uses an air cushion to relax sore muscles and apply pressure to stressed and sore nerves and joints in the neck.
Less tension and stress in the neck: The ChiSoft Neck Traction is portable so you can take it with you for work or travel to relieve headaches, osteoarthritis, neck pain, pinched nerves, and any number of degenerative conditions. If you have any pre-existing medical condition, it is recommended to consult with your doctor before use.
Improve your posture: The ChiSoft Neck Traction will work to quickly inflate to lift your head and straighten your spine and neck. When you sit comfortably with this device, it will help you to immediately become aware of your posture. In fact, regular use of this tool will help your spine to straighten and your posture to improve right away.
The ChiSoft Neck Traction is recommended for a number of conditions, especially if you work for hours on the computer in an office, normally suffer from sore neck muscles, or have increased pressure and stress in your neck and shoulders.
Neck pain is unfortunately a common occurrence for millions of people every year caused by poor posture, office work, stress, and even whiplash. The good news is that it is possible to treat these issues at home with the use of this helpful device!
The air cushion will gently stretch and massage stubborn and stiff muscles in the neck.
The
ChiSoft Neck Traction
works with air that is slowly pumped into the neck collar through an inflation bulb. This will increase pressure to the neck vertically to stretch and relieve tight muscles and chronic joint pressure due to stress or injury.
Relieve Stubborn Soreness with the ChiSoft Neck Traction