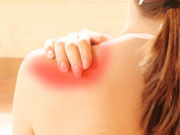 Use a Shoulder Heating Pad to Relieve Sore Muscles!
For stubborn sore and stiff muscles, you can immediately relieve your shoulder pain with the Shoulder Heating Pad! This is a helpful and handy device that has a convenient "U" shape that works as a collar around the neck. This design will provide efficient heat delivery to sore and stiff muscles in the neck and shoulders for the ultimate comfort and relaxation.
This is the Deep Comfort that You Have Been Looking for
to Treat Muscle Soreness!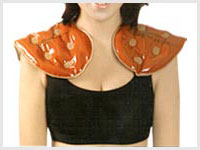 The
Shoulder Heating Pad
helps by offering relief from severe shoulder and back pain, and it also works to improve the metabolism for long-lasting benefits by increasing circulation. This process will relieve muscle aches and tension, and it will also ease the effects of chronic fatigue and muscle soreness.
This is the device that you are looking for to provide complete relaxation and tension reduction from the everyday stresses of day-to-day life. Even better, if you have joint pain and muscle pain, the
Shoulder Heating Pad
will use heat therapy to immediately treat these issues!
The Shoulder Heating Pad Is Perfectly Designed
to Fit All Shapes and Sizes!
This tool will give you the easy relief that you are looking for through heat therapy to ease tension and stress. The
Shoulder Heating Pad
works with a deep heating comfort to stimulate the blood vessels to promote circulation and reduce pain and aches often caused by fatigue.
When You Use the Shoulder Heating Pad for Only 15 Minutes a Day,
You Will See an Immediate Difference in Relaxation
in Your Neck and Shoulder Muscles!
The
Shoulder Heating Pad
is one-of-a-kind in that it uses infrared energy within the material of loess, which is a fine-grain clay or silt. The pad can be easily heated, and the clay filling is used to emit infrared energy. Far-infrared energy comes from the safest part of the sun's light spectrum. In this respect, it is much safer than ultraviolet light in that it is harmless for the body to use to treat and heal.
This Type of Far-Infrared Energy Works Efficiently in the Body Because It Naturally Mimics the Body's Own Functions to Deeply Penetrate Tired and Sore Muscles.
The
Shoulder Heating Pad
contains a loess filler that is able to heat for a longer period of time to provide greater result in lasting relief. The outer material of this device is constructed with a specialized plastic that can withstand high heating temperatures,
and it also offers a different texture on both sides of the pad for variations in the intensity of the heat.
The
Shoulder Heating Pad
is the help you have been looking for to relieve tight and sore neck and shoulder muscles through the age-old treatment of heat therapy. This is the best natural remedy to use instead of heavy pain medications to boost circulation and speed up the healing process in the muscles.