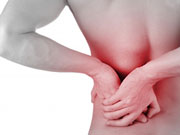 Melt Away Stress with the ChiOndo Heating Wrap!
This device provides instant relief with a microwavable heating pad. All you have to do is place the heating pad within the belt, and wrap it around any area of your body for immediate comfort and relief from stress and strain. This is a portable and user-friendly device that can be used in any setting, and it provides the advanced technology of infrared rays for immediate results in muscle recovery.
This is the Deep Comfort that You Have Been Looking for
to Treat Muscle Soreness!
Back
Shoulder
The
ChiOndo Heating Wrap
is the perfect treatment for tight shoulder, neck, and back muscles through the use of infrared heat therapy. It works to immediately relieve tension and stress, and it will also alleviate pain and aches caused by fatigue. The heating pad is conveniently microwavable, and it will give you quick comfort in a heating sensation.
The
ChiOndo Heating Wrap
works with a portable and simple heating belt, so you don't have to hassle with any electrical wires. All you have to do is place the heating pad within the belt, and wrap it on any area of your body for immediate relaxation in heat therapy. You can enjoy this treatment at work, at home watching television, or even in a movie theater!<
The ceramic heating pad works with a cloth belt to prevent the heating pad from sticking to the surface of the skin so it can be worn driving or even on an airplane.
The ChiOndo Heating Wrap Offers Advanced Features in:
Warming for up to three hours at a time
A safe technology that will not explode in the microwave if it is overheated
A ceramic heating pad to retain heat longer than other competitive pads on the market
A strong source of treatment with far-infrared rays
No leaking!
Only 100% ceramic powder filling
The
ChiOndo Heating Wrap
will work to alleviate intense muscle soreness and stiffness, and it will also improve metabolism in the body by stimulating circulation.
This process will work to soften and promote health in the surface of the skin for a silky texture to your skin tone!

On top of that, you can count on long-lasting muscle relief from tension and aches that are often caused by severe fatigue. This is the perfect treatment to use after a long, hard day as the pampering and comfort that you truly deserve. If you suffer from chronic muscle and joint pain, then the ChiOndo Heating Wrap will offer innovative heat therapy to increase circulation and reduce frustrating stiffness and soreness in the body.