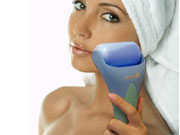 Advanced Cold Skin Therapy with the Ice Face Roller
If you are hoping to reduce muscle pain, ease tension, and relax tired muscles, then the perfect tool is a portable cooling device that can instantly remove pain anytime you would like!
The Ice Face Roller Uses Expert Skin Therapy with a Cooling Head that Will Gently Glide over the Surface of the Skin.
This is a portable product that is convenient and lightweight in its use, and it will effectively work to relieve tension, reduce soreness, and cool tired muscles. You don't have to use any attachments, batteries, or wires with this easy and convenient facial device!
The
Ice Face Roller
works as a handheld and portable tool that will reduce headaches, tennis elbow, sprains, stiff muscles, and even carpal tunnel syndrome. For any minor pains craving relief, the Ice Face Roller is the perfect healthy alternative to pain medication or even massage therapy. This is a simple tool that can quickly and easily be used to treat wrinkles, irritation after shaving, and puffiness under the eyes for women and men.
The Ice Face Roller is Specially Designed to Be Used on
Any Area of the Body to Relieve Severe Tension and Pain.
This is a convenient and easy to use device, and all you have to do is keep the roller in the refrigerator until it is cold and ready to use! This tool can be used anywhere, whether it be at work, at home, or on the go. The best part of all is that the Ice Face Roller does not require the use of any wires or attachments, and it is also simple to maintain and clean. This is a lightweight and handy tool that will provide instant relief and comfort to stiff and sore muscles caused by stress or minor injury.
To use the Ice Face Roller, all you have to do is:
Remove the roller from the tool, and place it in the refrigerator for a minimum of 10 minutes until it is cold.
Attach the roller back to the Ice Face Roller.
Apply the cold roller to any area on the body with a rolling motion to ease pain and provide immediate comfort and relief.
If you are struggling with minor aches and pains, inflammation or swelling, or even deep wrinkles, then the
Ice Face Roller
is what you have been looking for! This expert tool is incredibly simple to use, and it will soothe and calm irritated and tired skin. Even better, it will also penetrate this cold therapy below the surface of the skin to relieve stiffness and pain in the muscles caused by stress.
If You are Hoping for Quick Comfort and Relief in an Easy to Use Tool,
then the Ice Face Roller is What You Have Been Waiting for!