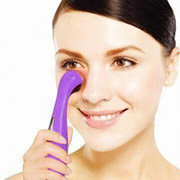 Galvanic and ultrasonic facial treatments are two of the more well-known special types of facial treatments offered in spas today. But how DO they work, and which of the two is better?
Let's take a closer look at these two unique ways of making skin look good.
Discover Why Beauty Salons Don't Want To Reveal
the Beauty Secrets Of Galvanic Facial Treatment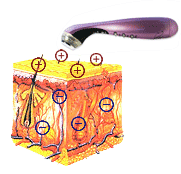 The word "galvanic" comes from "Luigi Galvan," inventor of the galvanic cell. Galvanic facial treatments basically work by running a gentle electrical current through the skin to stimulate healing and growth. This method has been used by beauticians and medical professionals for decades.
Getting periodic galvanic facial treatments is a lot like getting a facelift, only without the surgery and recovery period. The gentle electric current, coupled with a massaging action, removes impurities from the skin and stimulates the production of new skin cells and collagen.
How Galvanic Facial Treatments
Gives You Wonderful Skin Results
The massaging action also improves blood circulation under the skin, which removes even more impurities from the skin. Galvanic facial treatments effectively unclogs blocked pores, preventing the onset of inflammation and disease.
Galvanic facial treatments
generally leave you feeling refreshed. And over time, you skin will be able to start healing itself, since it has to contend with less and less impurities.
But perhaps the most desirable advantage of galvanic facial treatment is its ability to make even basic skin care products work much more effectively. This is because the galvanic ions help the nutrients in these skin products seep through the surface of the skin into the deeper layers, where they are at their most beneficial.
That is the reason why galvanic facial treatments are very popular with people who want to look 5, 10, even 20 years younger!
How Ultrasonic Facial Treatments Work
Ultrasonic facial treatments
have the same objectives as galvanic facial treatments, except that they don't use electric current. Instead, ultrasonic facial treatments use millions of tiny vibrations to remove dead skin cells
Ultrasound wave technology penetrates deeper into the skin than any other massager. It stimulates healing and helps remove toxins.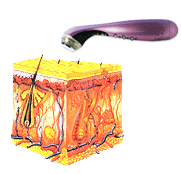 Ultrasonic facial treatments tone facial muscles, smoothens out skin, and removes wrinkles and fine lines. They also encourage better blood circulation under the skin, which results in the removal of toxins and the onset of healing.
Now comes the million-dollar question: Which of the two special treatments is better than the other?
It's impossible to know. And since we can't decide either, we decided to incorporate BOTH treatments in one device!
The Fyola Lite Facial Machine Giving You
The Best Of Both Galvanic And Ultrasonic Facial Treatments
The Fyola Lite is a revolutionary new face massager that combines the benefits of both galvanic and ultrasonic facial treatment into one easy-to-use device. Now you can literally watch as your skin looks firmer, younger, and more blemish-free as the days go by.
Use the Fyola Lite face massager to remove fine lines and wrinkles, and hasten the healing of common skin diseases like acne and dry skin.
And no matter what skin care products you're currently using, the Fyola Lite maximizes their effectiveness by bringing their nutrients deep down into the levels of the skin where they're needed the most.
And The Best Part?
You Don't Have To Go To Spas To Get This Kind of Expensive Treatment
Now, even your most basic skin care products can bring about a world of difference to your skin!
The Fyola Lite brings the beauty and healing you get in spas right into your own home.
Every night, you can give yourself a Fyola face massage – and every morning, you'll see the results in the form of healthy, beautiful, younger-looking skin.
Get The Most Out Of The Fyola Lite
With An 100% Natural Skin Toner Gel -
FREE
Fyola Lite works with any skin care product you use, but it works best when used with Mother Nature's approval. So it's always best to use organic, all-natural skin care products with no chemicals.
Still want to know about Fyola?
To give you the best result, Fyola Facial machine comes with a FREE bottle of Fyola Skin Food. This organic, all-natural skin gel that's specially designed for the Fyola Facial machine
This is a Limited Offer (only first 30 visitors),
So Hurry!