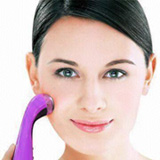 Have you ever heard of LED photon skin rejuvenation?
It's a relatively new kind of non-invasive skin treatment that's touted to be an effective cure for acne. And until recently, it was a treatment that could only be had in spas and dermatology clinics.
Not anymore!
A Painless, Affordable Way To Fight Acne
That Your Dermatologist Doesn't Want You to Know About
Acne is probably the single most effective killer of teenage self-esteem in the world. If you're like 4 out of every 5 people, you probably know how embarrassing and annoying acne can be!
When whiteheads, blackheads, and pimples started showing up on your face, you may have scrambled for the best acne treatments and skin care products you could find.
And if you're like most people, you may have spent hundreds (if not thousands) of dollars on creams, lotions, and dermatological treatments as your battle with acne stretched from months to years.
And, again, if you're like many people, you may have realized that no matter how much you spend, nothing seems to get rid of your acne problem, even though your teenage years are far behind you. Nothing seems to get rid of your pimples completely – they just keep coming back!
Is there no hope to making your skin look the way it did before puberty?
Or are you missing something... and you simply don't know it?
Why Many Acne Creams
Don't Do Much To Get Rid Of Pimples
Here's the secret: If your whiteheads, blackheads, and pimples only affected the surface of the skin, then your creams and lotions would probably be EXTREMELY effective.
Unfortunately, they're NOT just on the surface of the skin.
Whiteheads, blackheads, and pimples are just manifestations of changes in the DEEPER layers of the skin.
A study done by scientists at the University of Bath in the UK showed that even the so-called "nanoparticles" contained in most cosmetic products can't penetrate the skin's surface, no matter how expensive the product is. The molecules are simply too large.
That means all the Vitamin A, Vitamin C, Vitamin E, collagen, and antioxidants in your acne treatment products stay on the surface of your skin – where most of their healing potency is wasted. At the end of the day, you simply wash and wipe all the good stuff away.
How sad!
Fortunately, laser treatments fix this problem. Depending on the type of treatment, lasers work by either heating or vaporizing your skin surface to stimulate healing and the production of collagen.
If done by a skilled healthcare professional, these treatments can be good for you!
But just like other treatments, they also have disadvantages...
The Undesirable Drawbacks
Of Skin Laser Treatment
For instance, acne may require many laser treatment sessions to fully disappear. That means frequent visits to your laser treatment specialist, and the costs can very quickly add up.
What's worse, you also have to deal with undesirable side effects, such as infection, scabbing, scarring, and redness.
And to top it all off, laser treatment for acne only clears up 30-60% of whiteheads, blackheads, and pimples at best – not nearly enough for most people!
That's why more and more people are turning to LED photon rejuvenation treatment. It's safer than laser treatment, less expensive, and more effective for the treatment of acne and removal of pimples.
LED photon therapy works by altering the chemistry of harmful bacteria on the skin, particularly the bacteria that causes acne. This change in chemical makeup causes the bacteria to self-destruct and die, finally allowing your skin a chance to clear and heal itself.
Studies have shown that LED photon rejuvenation therapy clears up to 81% of whiteheads, blackheads, and pimples. That's a full 35% better than the best laser treatments!
With regular treatments, LED photon rejuvenation therapy actually reverses the age of your skin, making you look several years younger than your age.
And now, with the Fyola Lite, you LED photon rejuvenation therapy right in the comforts of your own home!
How the Fyola Lite Strikes The Very Core
Of Your Acne Problems
Fyola Lite brings 3 of the most revolutionary skin care treatments in the world today – galvanic, ultrasonic, and LED photon rejuvenation therapy – into one easy-to-use handheld device!
With the Fyola Lite, you'll save money on acne treatments without missing out on their benefits. The Fyola Lite enhances absorption of your topical beauty products to fully nourish and heal your skin, so even the most basic skin care products brings about a world of difference for your skin!
Fyola Lite also uses ultrasonic waves and a gentle massage action to eliminate toxic materials from your blood, so you can say goodbye to eye bags, sagging skin, fine lines, and – of course – acne lesions. Indeed, just a few weeks of using the Fyola Lite will mean a big difference for your skin.
And just when you think it can't get any better, here's more...
Make The Most Out Of The Fyola Lite
By Treating Your Skin With Mother Nature's Best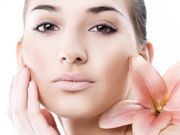 The Fyola Lite works best with products that are all-natural and organic. And we know just how hard it is to find skin care products that don't contain harmful chemicals. That's why we're also offering the Fyola Skin Food – an organic, all-natural toner gel that's specially designed for use with the Fyola Lite.
CLICK HERE

to learn more about Fyola Skin Food.
Then add it to your cart with the Fyola Lite on your way out. Your skin will thank you for it!