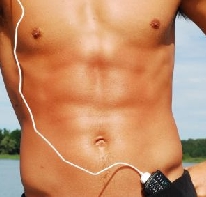 Despite the rise of Zumba, Shaun T.'s
Hip Hob Abs
abdominal exercise workout programm is still hugely popular, especially with women. Check out our independent review to see if Hip Hop Abs is the right choice of fat burner for you. It does really work, that's the good news, but there are a few things you should keep in mind before purchasing this product.


The
Slendertone
product series is based on so called Electronic Muscle Stimulation (EMS), which has been used in physiotherapy and professional sports for years. Many customers are excited about the results they claim they achieved with Slendertone: less inches ont heir waste, muscle toning and hard abs. Sounds too good to be true, but is it? Check for yourself what reserchers from the UFL and the FDA have to say about Slendertone and find out if these are the weight loss and ab training the products you have always been looking for.


Leg Magic
is a new trend product promising to tone and shape your legs, thighs, buns and generally your lower body. It consists of a horizontal slides and a vertical handle and is built for a powerful workout targeting problem areas which many of us have. At least that is what the infomercial wants to make us believe. Check our latest review to see if leg magic really works or if it's a waste of money.


Ab Rocket
is a new
ab
exerciser product featured on many infomercials. Like so many
ab-
dominal exercising products shown on TV
Ab Rocket
promises miracle results and rock hard
abs
in no time. In her latest
review
, our fitness expert Cindy Romero tested it for you and tells you if Ab Rocket can help you get solid abs and if it's worth your money.


Spa visits are not only good for the feel and look of your skin, but also for your well being and stress relief. However, spa vsits cost a lot of money and you have to repeat them frequently to get results. One of our authors received a face massager as a gift from her sister and she was so extatic about it she wrote a review for us. If you want to know what the hype about the only patented and FDA approved facial masssager that combines both ultrasonic and galvanic ions is all about, you must not miss out on this review!


Red exerciser is an abdominal exercise product much advertised on TV. However,many of those so called miracle products do not live up to their promises. Before you consider spending good money on this product you should definitely read out 100% independent review.

Product Reviews