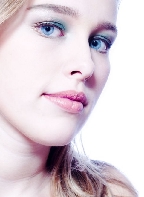 Once more I found myself compelled to do a review of an infomercial product. Every time I see an infomercial telling people they can lose weight fast and without effort, as is the case with the
Red Exerciser
infomercial, I feel like somebody should be out there to tell them the truth. Luckily, one of my friends actually bought the product and I could borrow it from her to try it out and write a
review
about it.
If you browse the net for various miracle abs machines, besides the obviously sponsored favourable
reviews
sounding like "this abs product saved my life, I lost 10 pounds in one week and now I look like a Greek god" you will find a lot of people that bought them and are not content.
If you are one of these people or if you want to buy a product like the
Red Exerciser
, here is the bad news up front: there is not a single abs machine out there that works better than simple crunches, the captain's chair or abs on an exercise ball. I know these exercises hurt, they make you groan, your skin sweat and sometimes your mid section aches for days, but hey, that is exactly what should happen in an abs workout! However, I am getting a little ahead of myself, so let's start the
review
at the beginning.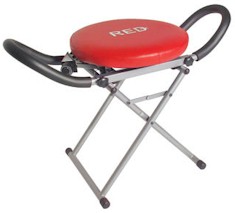 The
Red Exerciser
package comes with the
Red Exerciser
unit, a fitness guide, the Fat-to-Fit health and nutrition guide, a workout DVD and an instruction manual. The whole package costs you $120 plus $30 shipping. For $150 you could get a 3 month membership in most cities, so the
Red Exerciser
should better be worth its money. How does it work? The instructions tell you to sit on it and then work you upper and lower abs in a twisting motion. When I did that twisting motion it only reminded me of the times when I played on my mom's swivel chair.
There was very, very little resistance, it was awkward and also the handles were in the way. I removed the handles and finally got it to do a fluent motion, however my abs muscles, or "core muscles" as they are called in the
Red Exerciser
advertisement, were not targeted at all.
If I do crunches or work with a cheap $20 exercise ball, even from the first minute of exercise I can feel my muscles contracting and expanding. With the
Red Exerciser
after a 30minute workout I was slightly out of breath, but that's it. I doubt very much that anyone can get any result from working out with this product and even less a better result than with crunches, the captain's chair or an exercise ball.
In my last
review
about
Hip Hop Abs
I could at least state that if the product gets you off the couch, you should buy it, but the
Red Exerciser
is a pure and simple waste of money. The only thing useful in the whole package is the nutrition guide, but you can get a better one for cheaper. The overall result is that
Red Exerciser
is a rip-off, save your money for a better product or the gym.
My friend by the way returned her
Red Exerciser
after four weeks, or rather she tried. It cost her a lot of time in the 1-800 hotline, $20 shipping and another $29.95 which they charged to her credit card even after she returned the product. So, if you read this
review
and still are convinced the
Red Exerciser
is the ultimate abs workout product, go to a store and buy it there, at least you can return it hassle free if you don't like it.