Will You Put Your iPhone Down
If You Knew It Was Causing Your Neck Pain?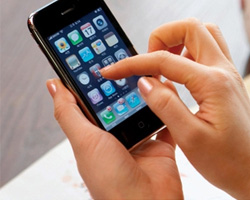 Do you own an iPhone? Be careful – you may be a candidate for lifelong chronic neck pain!
Today, it's estimated that 140 million people around the world own an iPhone. And while that's good news for Apple, it may be bad news for iPhone users – especially those who can't put it down.
Do you know that your iPhone can be a pain in your neck... literally?
Why 140+ Million iPhone Users
Are At Risk Of Injury And Pain
Yes, the iPhone is incredibly useful. You use it to connect with friends, listen to music, shop, learn the latest news and information, etc. Whatever you need, there's an App for that!
There's really nothing wrong with its usefulness. But the iPhone can actually be a health hazard when you spend more time than you should.
According to Marketer.com, the American adult spends around 65 minutes a day using their mobile phones. Now normally, that wouldn't be a problem if you held your phone at eye level... but who holds their phone that way?
Research Shows Increasing Number of Hours Spent On SmartPhone
400 Hours of Unnecessary Strain On Your Neck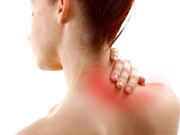 According Ipos research most people spend 2 hours per day on their smart phone. And 65 minutes with their head tilted down or in an awkward position. Over a year, that's a total of 400 hours of unnecessary strain on your neck.
And that's bad, because the most common cause of neck pain is not trauma. Most of the time, neck pain is caused by poor posture – like when you tilt your head for prolonged periods.
Signs Your iPhone Might Be Starting
A Severe Neck Problem
By now, you may already be feeling some strange tension on your neck, and it may hurt when you turn your head in certain ways.
That's the beginning of chronic neck pain – and unless you restore the natural balance and alignment of your neck, it's going to get worse and worse as the years go by.
But here's the good news – while there's no App for back pain, we have the next best thing. It's the ChiSoft Neck Traction device – a device that restores the natural balance and alignment of your neck and prevents the onset of chronic neck pain.
How ChiSoft Neck Traction Prevents Neck Injury
So You Won't Have To Give Up Your iPhone
If you're having neck pains and bad posture problems, you'll definitely benefit from using the ChiSoft Neck Traction. Its inflatable cushion is specifically designed to fully support your neck area through its three separate compartments.
Aside from re-aligning the bones in your neck, the ChiSoft Neck Traction also stretches them without stretching the muscles, preventing spasms. The stretching action allows oxygen, nutrients, and painkilling endorphins in between the bones of the neck, repairing damaged discs and relieving compressed nerves.
Wrap it around your neck, fasten, and inflate – that's how easy it is to use. Bring the ChiSoft Neck Traction anywhere you go, and get traction therapy anytime you need it.
ChiSoft Neck Traction Also Helps Recover Injury
In The Traditional Chinese Way
And that's not all. ChiSoft Neck Traction also comes with a piece of Traditional Chinese Medicine in the form of magnetotherapy. Magnetotherapy has been used for thousands of years to improve blood circulation and hasten healing.
That means regular use of the ChiSoft Neck Traction device not only get rid of neck pain, but it will also strengthen the bones, joints, discs, and muscles around the neck to prevent any future neck pain from ever bothering you!
So if you're suffering from neck pain, or are already feeling the signs of early chronic neck problems, do yourself a favor and get your very own ChiSoft Neck Traction device. You'll be free of neck pain for decades to come.
To order your own ChiSoft Neck Traction device, simply click the "Add To Cart" button below. You'll be saving your neck – literally – in just a few days.