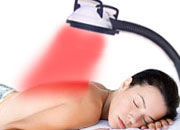 TDP Infrared Mineral Lamp
It's called the TDP Far-Infrared Therapeutic Lamp. With a mechanical control panel this TDP Lamp provides focused deep heating in therapeutic treatments to relieve sore muscle and muscle pain. It also increases the blood circulation and metabolism. This Floor Model provides especially comfortable relief for back and neck pain even while you sit in your lazy chair and watch TV or at your bedside while you sleep under its warming rays.
How does the TDP Mineral Lamp work?
While most heating lamps use a common infrared bulb, the specially engineered TDP CQ-29 features a "black body" emission heating plate which is coated with a unique mineral mixture consisting of 33 different mineral elements with healing properties that have proven their worth in thousands of years of traditional chinese medicine.
When activated by a built-in electric heating element, this mineral plate emits a special band of far infrared electro-magnetic energy penetrates deep into the human body.
The human body has a higher absorption efficiency for far infrared energy than near infrared. The emission head can be positioned as low as 12" (for treating feet) to 60". Depending on the treated condition, repeated treatments of 20 to 40 minutes are recommended.
This TDP Lamp CQ-29 has a natural, safe, heater that is recommended for temporary relief of stiff muscles, sore muscles, arthritis, bursitis, back ache, tennis elbow, and joints.