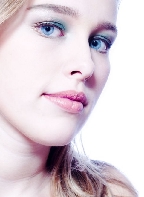 Before starting this
Ice Face Roller review
, I would like to point out that Beauty Health Source does not endorse any products unless we are 100% convinced of them and list them in our shop. The Ice Face Roller actually is one such item. I know, it doesn't look like much at a first glance, but once you tried it out in different situations, you won't want to miss this little gem from your beauty case.
What exactly is the Ice face roller?
As the name says, the Ice Face Roller is a nifty little piece of beauty equipment, basically comprised by a handle and a detachable roller made of special, cold temperature retaining material, very similar in build to a lady shaver if you want. The gadget is not complicated at all to use, and the roller itself is really easy to detach, which makes it work easily. Despite its simplicty, the ice face roller is made of high quality materials, so even repeated changes from icey cold to room temperature do not damage the roller for many, many repeated uses (and I speak from experience here, having used the Ice Face Roller close to two years by now, and it still works).

Ice Face Roller
Regular price:
$79
NOW ONLY
US $59
Shipping $4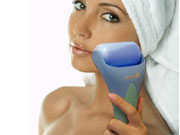 Ice face roller: how does it really work?
Even though the Ice Face Roller is a small and handy gadget, there are way too many uses to all fit into one review. Instead, I'll just list the top ones that spring to my mind thinking back this week alone.
One of my most frequent uses of the Ice Face Roller, and something that convinced most of my friends, is the great soothing effect the Ice Face Roller can have on minor skin irritations. It works really great, for example after shaving, especially in more sensitive areas like your armpits or your bikini zone. To avoid irritations from razor burn, I always keep at least one roller in my fridge to have it handy after I shaved. Just applying the Ice Face Roller is quite soothing, but I also keep an aloe-vera based moisturizer in the fridge together with the roller, and then use the Ice Face Roller to gently work the moisturizer into my skin in the areas I just shaved. Ever since doing this, I only get the giggles and goosebumps after shaving, but not razorburns. An added plus is that this also works for other skin irritations, such as insect bites or stings. The Ice Face Roller will instantly cool the affected area down, and it's better than just an ice pack, because you can roll it up and down over the itch without freezing your hands off or breaking your skin from a hard edge on the ice pack.
The next thing the Ice Face Roller really works well for I actually read about in a review for the Fyola Face Massager, and I thought I'd just try it out with this one as well. Basically, sometimes when I go out and party too much at night, have a few drinks too many and a few hours of sleep too little, I wake up the next morning with really puffy, red eyes and sometimes even big, ugly sacks below my eyes. I'm sure every woman reading this review has had a similar experience at least once looking into the mirror. Now, when this happens on the weekend, and if I have enough time to pamper myself and do what I call my "home spa"n treatment, I just use the Fyola Face Massager in an extended session together with different lotions that I have, to give my eyes a real treat and to keep fighting off wrinkles. However, when I don't have the time or just don't feel like a prolonged beauty session, I simply pop the fridge open and grab the Ice Face Roller and apply it under my eyes and at the sides while doing other things like eating breakfast, reading emails, getting ready for work, or checking facebook. It practically takes no effort or attention at all to massage your eyes with the cool roller and thereby reduce the swelling around your eyes and cool them one at a time while you still can do other stuff, and even work on your computer or Ipad.
As I said, I can't go into all the uses I have for the Ice Face Roller because this is a short review, and not supposed to bore you to death. However, this last use of the Ice Face Roller is as good as it gets for such a cheap little gadget. My whole family are all health nuts and I personally need to go jogging a few times a week just to keep my head straight. Unfortunately, sometimes I overdo it and instead of coming home from a good work-out just with a clear head, I also get back with a pain in my knees or aching calves. So, after taking a shower and freshening up, what I like to do is lounge in front of the TV or on the phone while using the Ice Face Roller on my sore legs (yeah I know, they should have renamed it something more universally applicable, like Ice Face Knee Calves Armpitt Bikinizone Roller, or short IFKCABR ;-) Some people swear on heat when their limbs are swollen or sore, and while I do have some heating pads, after physical exercise I mostly prefer the coolness of the Ice Roller over anything else. Since other people in my family have similar issues (sore muscle pain from working out with weights, sprains from too ambitious yoga) we usually keep at least two rollers in the fridge,just in case one is in use or if we want to use it for an extended time.

Ice Face Roller
Regular price:
$79
NOW ONLY
US $59
Shipping $4
Ice Face Roller Review: The Results
Initially, 60 bucks for a Ice Face Roller may seem a little steep, but as I mentioned above, I only covered three of my most frequent uses for the device in this review. I'm sure, if you do some googling, you will find a similar divice for less money. That said, there are reason why this Ice Face Roller is not the cheapest in the market:
Quality comes at a price. You don't want a cheap, made in China product, where you don't know what materials are being used and whether the stuff you are rubbing against your skin several times a week is actually good for your skin. Our Ice Face Roller is only made of high-quality materials and can be used over and over, without loss of quality or functionality, and most importantly, without endangering your health!
Our Ice Face Roller is super easy to use, and the roller itself as easily detachable from the handle as the razor blade from your lady shaver. It just works like a charm.
Minimal cooldown time. Even if you forgot to put your roller in the fridge, it takes just ten minutes before it's ready to use for a pronounced sense of coolness and pain relief.TIP: You can put the Ice Face Roller in the freezer instead of the fridge, the material will even withstand these extremly cold temperatures without issues and it will be even cooler when you put it on your skin.
What you see is what you get. There are no hidden extra costs (for adapters, batteries, cables, chargers or similar). All you need is the Ice Face Roller, and you even get a second roller for free.
Suitable for minor pains and aches: Naturally, if you have severe pain issues, you should seek professional advice, however, for other daily minor pains, irritations and aches, this small little device is a godsend. Cool your sore eyes, aleviate that itch from an insect bite or just relax sore and stressed muscles after you ran your body through a hard workout routine. You will feel the soothing bliss of this little gem from the first touch.
Does it really work? - Absolutely, personally, this is one fo the nifties and most hassle free gadgets in my beauty case.
Risk and hassle free: Even so, if you don't like the product, within the first 30 days after purchase, you can just send it back and receive your money back,no questions asked and hassle free. Also, there are no safety and caution issues with this product (as long as you use common sense and don't bonk your partner on the head with it).